Support for Studying Online
October 23, 2022
2023-04-27 20:55
Support for Studying Online
Support for your Online Studies at AIU
AIU considers your uniqueness to be an opportunity, if permitted, to help you achieve your optimal development. The freedom to generate solutions to current problems is the greatest motivation and support our students need. There is no one fits all approach at AIU. We understand that each person learns differently, and a University should be prepared to present the ideal options for each student to thrive.
AIU's virtual campus affords our students 25 tools to advance academically, and the open curriculum design permits an infinite combination of courses, assignments, readings, research, and projects to fit your goals and learning type best. The foundation supporting your studies at AIU is the freedom of choice to pursue your dreams and seek to make them a reality through a unique academic program based on open learning, omniology, and andragogy.
Atlantic International University is justly proud of its Academic Advisors. Their qualifications and expertise allow us to assert that your program will be evaluated by recognized specialists in the discipline, with extensive academic experience. The advisor's responsibility is to guide the student through the key steps of the academic program.

In addition to the Academic Advisor, students are assigned a Tutor who works to keep students on track academically and to help resolve any challenges that may arise during the duration of the study program. Tutors can help guide you through the available tools and resources and how you can utilize them to gain the most from your AIU Academic Program
Resources and Services for AIU Online Students
Our Primary goal at Atlantic International University, is to accommodate students by meeting their individual needs. For this reason, our degree programs are flexible and have been designed for accelerated completion.
Our programs encourage students to demonstrate competency through independent learning as well as reading and research in their field of study. AIU offers educational opportunities in the United States to students from around the world in an effort to propel them to discover their best selves by using their own potential to manage their personal, global, and cultural development. This is actualized through the evaluation of their credentials towards a Bachelor's, a Master's, or a Doctorate degree, and this also implies capability for sustainable results-based performance. The foundational axis of such a philosophy rests on self-actualized knowledge and information, which is embedded into a distance learning system based on omniology and andragogy.
Earning your degree online or via distance learning with AIU is extremely enticing:
Work on assignments when convenient for you
Study at home or office
Access learning resources online any time you need them
Determine the courses that are most relevant to you
Earn credit for work experience gained through lifelong learning
Since AIU programs are self-paced, students need to have the discipline to push themselves and impose deadlines to guarantee progress is made on their assignments. AIU students enjoy greater freedom in the content of their assignments which in turn requires a greater degree of organization. Due to the nature of distance learning, students will need to be comfortable reading material on their own and working on exercises independently.
To assist students and increase the graduation rate AIU provides each student with access to their Online Student Section.
The Online Student Section allows students to:
Access Instructions and formats for orientation courses,
Keep a calendar of assignments with planned completion dates,
Upload/Post assignments,
Review Grades/Transcripts,
Post Questions or Messages with Student Services and/or your advisor,
Start the first phase of the program to establish the program curriculum,
Access the AIU Online Library
Research can be conducted at the AIU online library which has full-text access to 1600 journals and periodicals amounting to over 10 million sources. This is a quick and convenient way to begin your research on any topic or area from your curriculum. Your program is primarily through independent study and research. Just like in a traditional classroom, your course textbook (or other reference materials) will be your main resource. Your assessor will review the work or assignments done from the book or applied from the book to a practical exercise or project (this may be appropriate for you if your work relates to your field of study). Your grade is derived from the assessment of your assignment and an exam which will be administered orally via phone or sent to you via e-mail. There are no real deadlines or semesters to go by, you work at your own pace. Your only requirement is to set a study schedule and keep it up to date. Should there be delays or setbacks just resubmit with a revised schedule. The curriculum you take will be modified from the standard program to capture your unique interest and goals. Our goal is to make you aware of your strengths and weaknesses and allow your program to include the skills and knowledge that you need to reach your personal and professional aspirations.
At AIU you will actually build your own curriculum from courses that are appropriate for your personal and professional goals. Your advisor will make sure that your curriculum is appropriate for your field and complies with the generally accepted norms. Your first task is to select your appropriate courses and to learn about the profession that you want to study. Next, you may want to do a search online for your program and look at a few curriculums. You will soon learn that many of the courses offered at different institutions are similar if not identical. Your job will be to select the required number of courses within your field and a research topic for your Dissertation. The number of courses will depend on your experience, transfer credits, and professional goals. After your curriculum is set and your courses selected, you will proceed to work on your courses. Initially, we do not provide the student with a list of courses to choose from because the University wants you to compare other programs both domestic and international. In the event that you need assistance in designing your curriculum, one can be presented to you based on your particular situation and career goals. However, it is encouraged that you take the time to explore other programs to be more aware of what is available.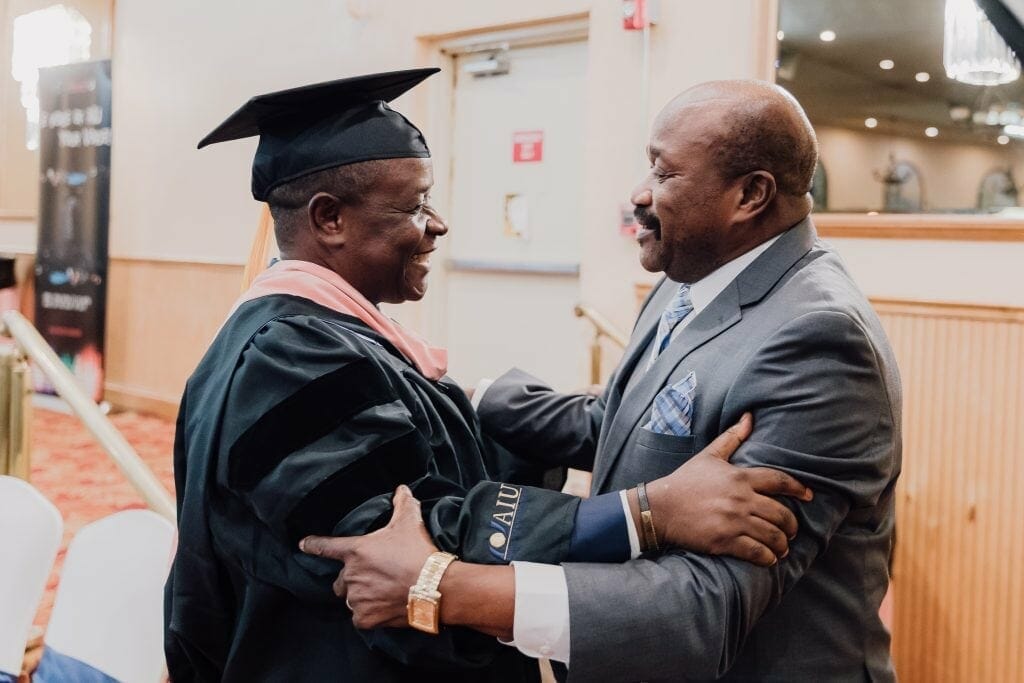 Being online does not mean you are alone. When you decide to be part of the AIU community you engage with a group of persons that are pursuing the same you're: Success and achieving their goals!
Technology, Tools and Resources at the University Virtual Campus
The Virtual Campus integrates the community at Atlantic International University with more than 25 unique tools to ensure the development, growth, motivation and inspiration to reach each student's full potential. While we develop students to become a University of One, students are not isolated. They are part of a community brought together via technologies and collaborative tools such as MYAIU, AIULink, AIUTV, Curriculum Builder Tool, Merlin Media Center, CampusAPP, Live and archived Webinars, Virtual Conferences, Live Chats, Virtual Laboratories, the Language Center, and a support system of Tutors, Academic Advisors, staff and fellow AIU Alumni. For example, on AIULink, our "on campus" social media platform, one can connect with AIU colleagues based on their location, major, research areas, industry, skills, place of work, etc. Access over 105,000 AIU created academic content on Merlin Media Center. Access your University program and resources on the go on the AIU Campus APP available on Android and iOS. Share your unique story with others and learn the 13 elements beyond academics that contribute to the improvement of the human condition and personal growth. These and other tools and resources enhance the student experience and make the AIU distance learning university program one of the best university degree programs for professionals.
Optional Tests and Quizzes

AIU provides optional assignments, microlearning, recommended raising, and relevant courses to complement the core Andragogic open curriculum its students follow. These optional tests and quizzes are a great way to move ahead academically by demonstrating your skills/knowledge that you already pose.

Admission Procedures

Complete the student application form by clicking on the Apply On-Line link on this website.

Submit curriculum vitae (resume) via the online application form or by fax to:1-808-947-2488.

Contact the Office of Admissions at: 1-800-993-0066 (in the US) or 1-808-924-9567 (International). To confirm the receipt of your documents

Upon acceptance of student's application by the Academic Committee, the Admission Office will contact the applicant with the results of the student evaluation and the basis of acceptance. Notification of acceptance and student affirmation of the acceptance allow student enrollment to the university. Enrollment fees are due upon enrollment. Atlantic International University is an equal opportunity institution. We do not discriminate on the basis of sex, religion, race, age, nationality, or ethnic origin.
We recommend that the student review our established financial plans shown below. If there are any questions, please call toll-free at 1-800-993-0066 or to send your request online: click here.